Hi guys, for today entry I'm going to recommend 4 anime with good art. Well, i've been searching for good anime with a good art.
I know I am really picky but..
I really can't watch anime
even though the anime is really great but the art is so old
SO I CANT!


Well for this entry, I want to make sure you guys watch these anime because I already watched all of these, it was really great. That's why I want to share it with you guys so much.
P/S : I only focus on the school-life & romance genres.
Lets Get Started
Number 1
Kaichou Wa Maid-Sama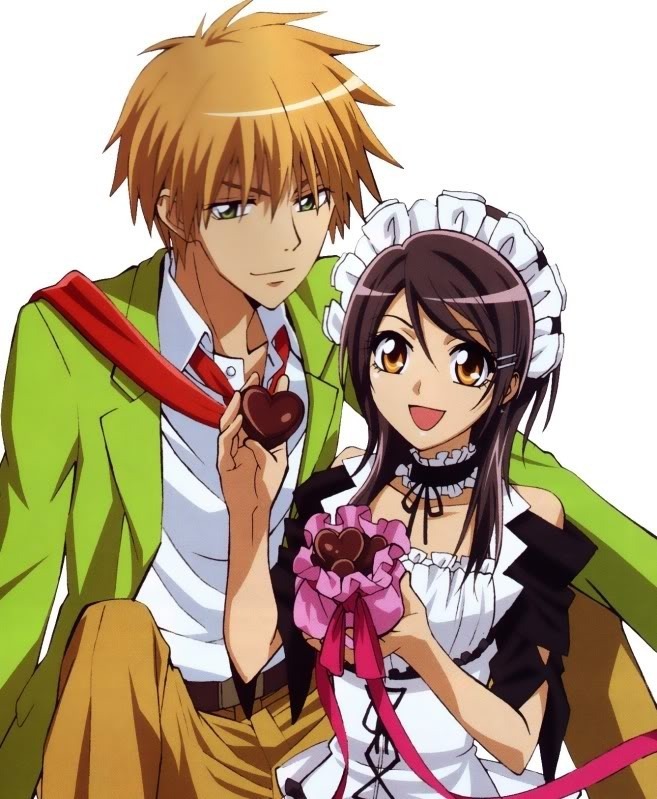 I recommend and suggest this anime
the most
for you guys. I don't know but just reading the synopsis makes me feel excited to watch this anime and the result is this anime never failed to make me falling love with this anime. This is the story about the guy that like an ordinary girl. Misaki comes from a poor family, she's the only and first president student council and the hero, Usui, he is very handsome, rich and a heart-breaker. Many boys are scared on Misaki, so the only hope is Usui to help them. Any way the genres are
comedy, romance, school and shoujo
.
If you are prefer comedy anime, this could be the best choice. This anime has
26 episodes
.
Watching this anime makes my heart throb. This anime is so perfect, I couldn't explain everything because everything is so awesome. Try to watch this anime, you will be fall in love with Usui. You can also read the manga at any website you prefer ♥
Number 2
Ao Haru Ride (Blue Spring Ride)
Okay for this anime it has only
12 episodes & 2 episodes for ova
. I've watched this anime twice and it was pretty sad and great. I recommend you guys to watch all of the episodes. It's really great actually, many fans said that this anime will has a second season which is this is just a rumor. But if you watch ova episode 2, you will think that this anime will release a second season. Anyway, this anime is really great and also on the top rank. It comes with the genres
slice of life, comedy, drama, romance, shoujo & school
.
Kou as the hero and Futaba as the heroin. This story-line is really sad, they have to go through a lot of things before they get to each other hand. There's no any kiss scene for this anime, but if you want to see they kissing you can just read the
manga
. I've read until volume 65 and the manga still haven't complete yet. I think you will shed a tear after watch this anime. Thus, the art is pretty cool so you don't have to be worried. The hero and the heroin is pretty as you expected it to be haha lol. Okay here are some photos for this anime & if you want to see more, go and google for it ♥
Number 3
Tonari No Kaibutsu-Kun (My Little Monster)
This anime is really different, its not like a normal anime as you guys expect. However this anime going to steal your heart at the first episode. Just watch first episode, you guys can see such as a crying scene and kissing scene. The hero has a really different character than the common hero character. He's very clever, he's such a happy-go-lucky person and he is very crazy but he has a problem, he's really sad when his friends leave him and if you guys want to know why, just watch the anime. The heroin named shizuku is also a very clever person, she only thinks about her grade and she wants to compete the hero. Plus of course there must be a (second hero) that like the girl and he is one of Haru(the hero)'s friend. For this anime the genres are
comedy, romance, school, shoujo & slice of life
. It has like
13 episodes and 1 ova
, okay to be honest I haven't watch the ova episode so I don't know what happen. Maybe later I will watch the ova episode and also I want to read the manga for this anime. I want to know the ending, anyway go and watch this awesome anime on any website.
the art
is completely
great
, so it doesn't bother you ♥
Number 4
Ookami Shoujo to Kuro Ouji (Wolf Girl & Black Prince)
This is the next anime that I really
recommend
it to you guys. I mean why not we try to watch a different style of anime. So, the heroin named Erika likes to tell everything about her boyfriend to her friends which is she exactly doesn't have any boyfriend at all. I'm not really remember the story-line but she took a picture of a boy when she went out
with her friends
or maybe alone. She took a candid photo of the boy and showed it to her friends. Unfortunately, a boy that she took a picture was her schoolmate. She didn't want her secret to be reveal. So she asked the boy named Kyouya to act as her
fake boyfriend
. Kyouya seemed to be a nice boy turn to be ultra-black-heart-sadist boy. If you are getting curious about what will happened to both of them, you must watch this anime! By the way, this anime comes with
comedy, romance, school & shoujo
genres. It also has
12 episodes
. Try to watch this cute couple. You must be falling in love with this anime ♥
THANK YOU GUYS FOR READING
I'm sorry that I took a lot of time to make this entry. I postponed a lot. I am so sorry.
Sorry to myself too haha. Anyway, thank you for reading. I decided to make 5 animes. However, since I postponed a lot, this time I need to make it. So enjoy reading, thank you so much.
Don't forget to click on the
FOLLOW
button. Okay!